WASTE-TO-ENERGY
Sewage sludge is used as fuel. The heat energy produced from the sludge incineration process is recovered and converted into electricity.
HOW IT WORKS
SLUDGE
RECEPTION
Bunker
Deodorisation
Plant
sludge
POWER
GENERATION
Incineration
Condenser
Steam Turbine
Generator
Steam
Condensate
Flue Gas
FLUE GAS
TREATMENT
Multi-
cyclone
Dry
Reactor
Bag
Filter
Stack
Clean air
ASH AND RESIDUE
HANDLING
Ashes
Ashes
Residues
SLUDGE
RECEPTION
Receiving Sludge All Year Round From 11 Sewage Treatment Works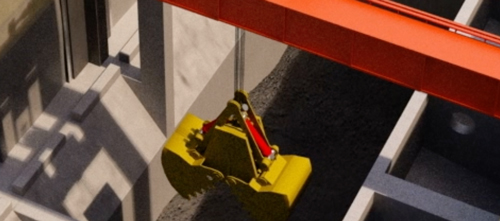 Truck passes through the weighbridge to record the weight of sludge received before proceeding to the delivery bay for discharging to the bunker. The enclosed delivery bay is equipped with an advance deodorisation system to prevent odour from escaping. The truck is required to be cleaned and dried before leaving the delivery bay. An automated grabber places the sludge into dedicated hoppers prior to mixing and pumping it into the incinerator.
INCINERATION
Proven And Highly Reliable Fluidised Bed Technology For Efficient Combustion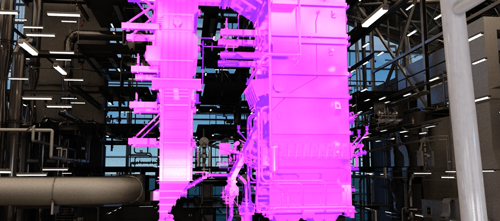 A proven and high-tech thermal technology known as fluidised bed incineration is adopted to treat the sludge through high efficient combustion. The thermal gases in the incinerator reach a temperature above 850˚C for at least 2 seconds to control the formation of organic pollutants. The treatment process considerably cuts the volume of waste to be disposed of in the landfills by up to 90% and reduces greenhouse gas emission into the atmosphere.
FLUE GAS
TREATMENT
Advanced Flue Gas Treatment Meets Strict International Standards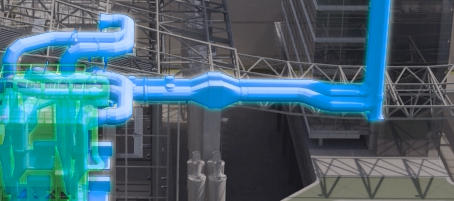 Highly effective flue gas cleaning system is used to remove particulates and pollutants in the flue gas. The series of treatment comprises the multi-cyclone, the dry reactor and the bag filter where large and fine particles are removed and acidic gases, organic pollutants and heavy metals are neutralised or captured. The cleaned flue gas is constantly monitored by a Continuous Emission Monitoring System (CEMS) to ensure full compliance with stringent international emission standards.
POWER GENERATION
Self-sustained Power Generation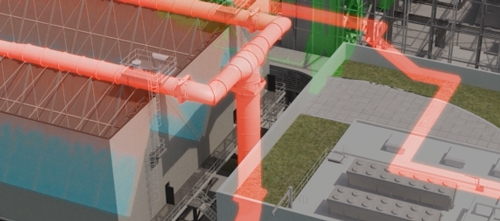 The incinerator acts like a boiler with a large number of water pipes surrounding its walls. The heat energy generated by the incineration process boils the water to produce steam, which then passes through a turbine to generate electricity. Steam condenses and becomes water again. It will then return to the incinerator to repeat the power generation process.
ASH AND RESIDUE HANDLING
Significant Volume Reduction Of Sludge By Up To 90%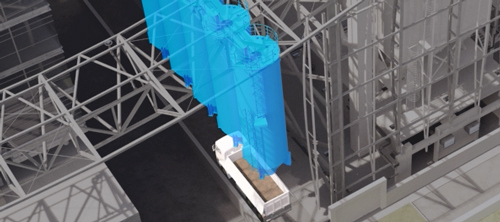 Inert ash and residues collected after the incineration and flue gas treatment processes are temporarily stored in silos. They are then tested to ensure full compliance with the treatment standards before sending to the adjacent West New Territories Landfill for disposal. By reducing the original sludge volume by up to 90%, the facility achieves a substantial decline on landfill loading.
TOTAL WATER MANAGEMENT
Self-sufficient In Water Supply With Fresh Water And Recycled Water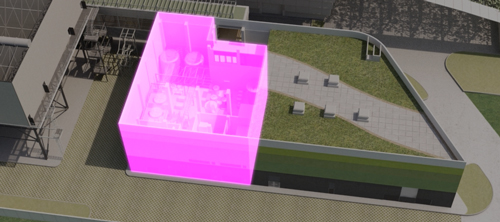 An advanced desalination plant is used to purify seawater drawing from the nearby Deep Bay to provide potable and process water, while rainwater is collected for non-potable use. The facility achieves "zero effluent discharge" through the deployment of a compact wastewater treatment system that allows all wastewater to be collected, treated and reused on-site for irrigation, flushing and cleansing purposes.