Address
No. 25 Nim Wan Road, Tsang Tsui, Tuen Mun
Map
Opening Hours
Mon, Wed to Sun
From 10:00 am to 7:00 pm
(By Reservation Only)
Free Shuttle Bus Service
Shuttle bus service is available between Tuen Mun V city and T · PARK.
Shuttle Bus Map
V city Departure Time
09:30
10:30
11:30
12:30
13:30
14:30
15:30
16:30
T · PARK Departure Time
12:00
13:00
14:00
15:00
16:00
17:00
18:00
19:00
Driving Route
Drive along Wong Chu Road, heading to River Trade Terminal.
Go along Lung Fu Road, heading to River Trade Terminal.
Go along Lung Mun Road, Lung kwu Tan Road, and Nim Wan Road.
Turn left after passing the entrance of the WENT landfill. Cross the bridge and go along the harbour front.
Enter T · PARK via the first entrance on the left.
* Pre-registration for private car parking is required.
* Coaches are allowed for pick-up and drop-off only.
Activity Schedule
T · PARK consists of a 9,800m² outdoor landscaping area including a water bird sanctuary and a 2,800m² Environmental Education Centre. It usually takes 3 hours or more to enjoy your stay at T · PARK. Please take a look the booking schedules of Guided Tour and Spa Pools and other attractions to plan your visit.
Guided Tour
10:30 – 12:00 (Cantonese)
12:00 – 13:30 (Cantonese)
14:15 – 15:45 (Cantonese)
15:45 – 17:15 (Putonghua / ENG)
17:15 – 18:45 (Cantonese)
Spa Pools
10:15 – 11:30
12:30 – 13:45
14:30 – 15:45
16:00 – 17:15
17:30 – 18:30
Important note: For both indiviidual and organisation, reservation for guided tour, spa or self-arrange visit is required.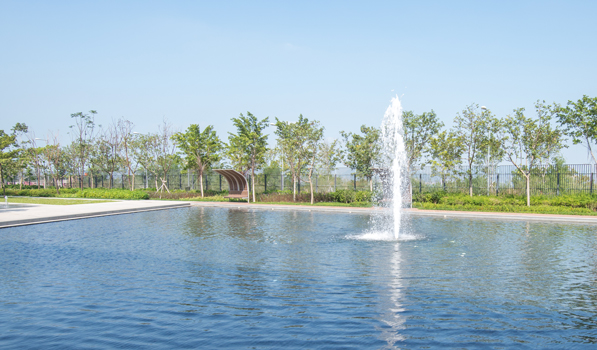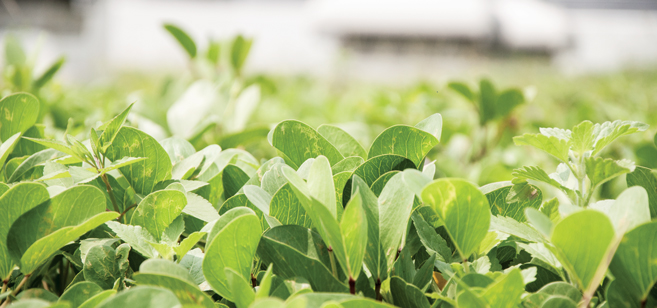 T · GARDEN
With over 9,800m2 of outdoor landscape, T · GARDEN comprises five major elements — a fountain garden, a leisure garden, a Zen garden, a wetland garden and an outdoor footbath.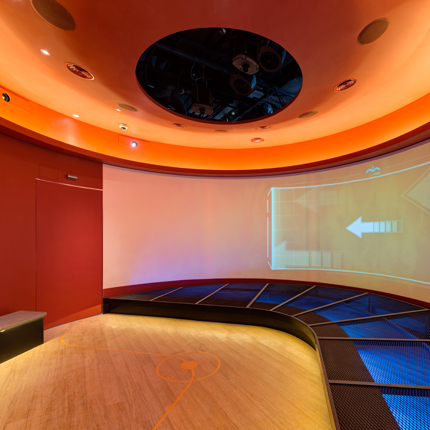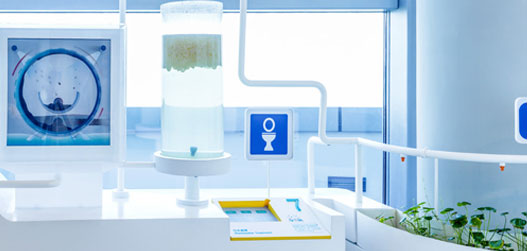 T · HALL
An exhibition hall where visitors can learn about the sludge treatment process through a range of innovative and interactive exhibits.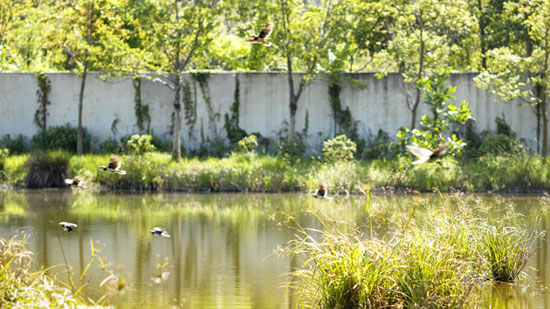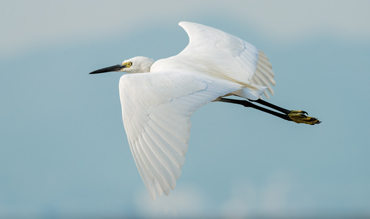 T · HABITAT
A reinstated sanctuary surrounded by trees and shrubs. It is a home for wildlife and nature including the Little Grebe, kingfishers, water hens, dragonflies and a range of amphibians.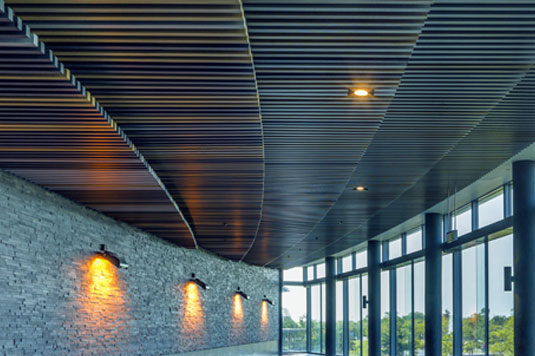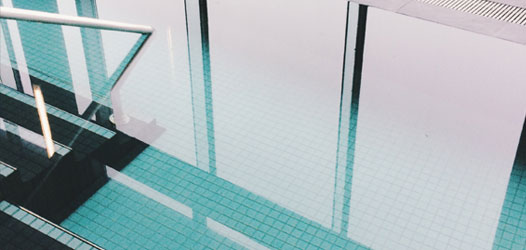 T · SPA
Supported by the heat energy recovered from the sludge incineration process, the 3 spa pools indicating hot, ambient and cool temperatures offer seamless sea view of Deep Bay, a perfect place to relax and refresh.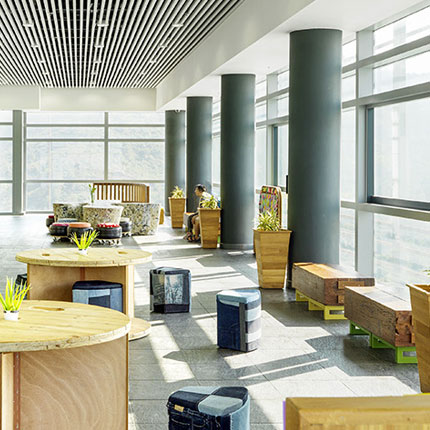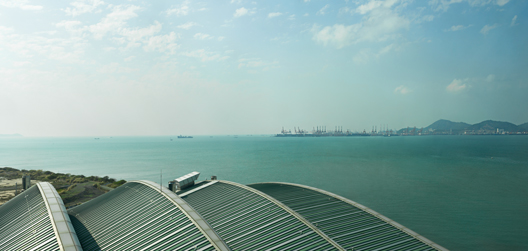 T · SKY
Located on the top floor of the Administration Building, T · SKY gives a panoramic view of the surrounding areas. It also highlights a range of eco-friendly furnishings and upcycling displays.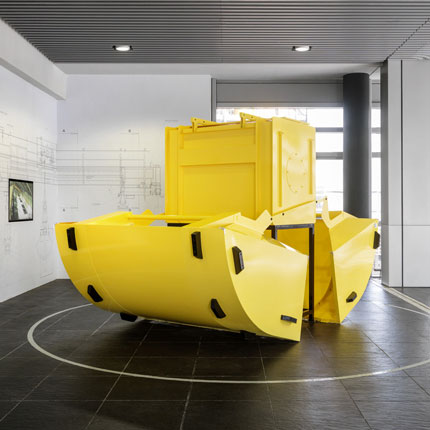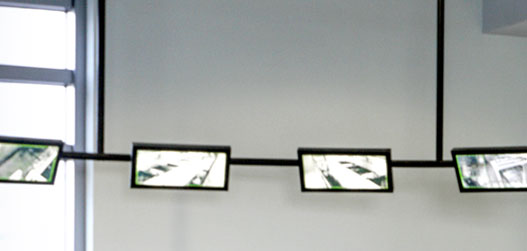 T · GALLERY
It is an experience for visitors to view the operations of the facility through designated windows in T · GALLERY without disturbing the daily process. A series of real-size models also impress visitors in terms of the scale and complexity.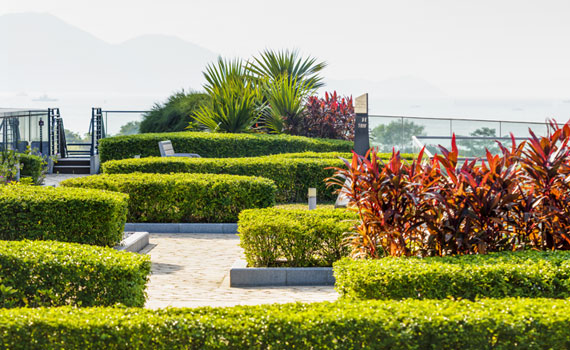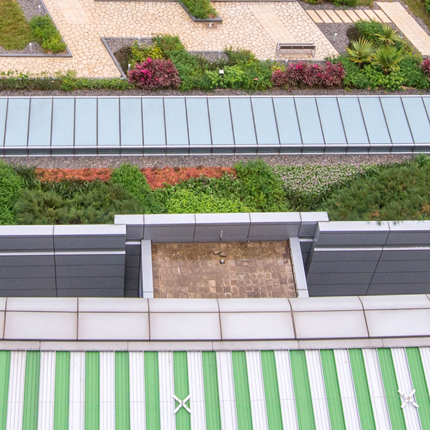 T · ROOF
At the top floor of the Environmental Education Centre, this roof garden gives visitors a quiet outdoor environment and a different perspective view of Deep Bay.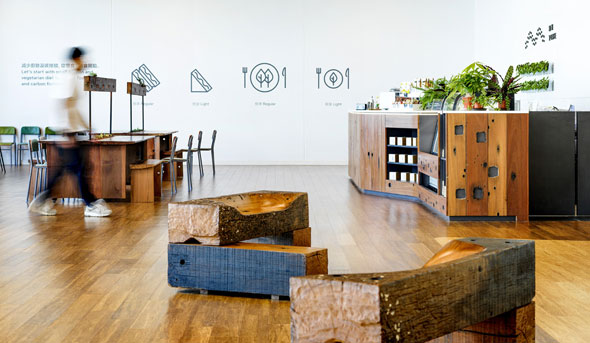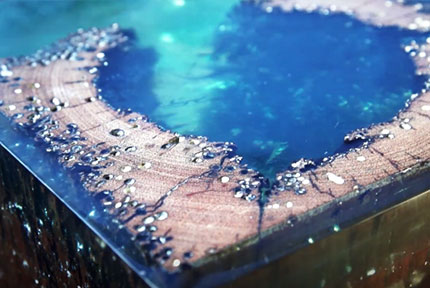 T · CAFE
It is a self-service cafe that provides light refreshments and introduces environmental-friendly furniture and utensils that perfectly gives another thoughtful yet meaningful attribute to T · PARK.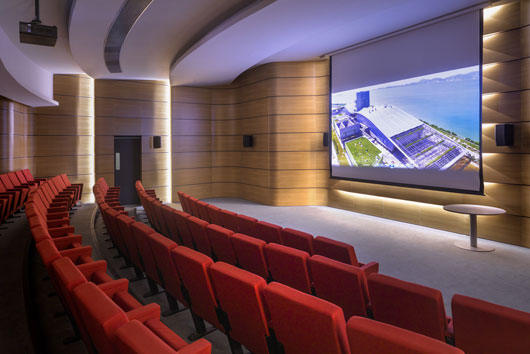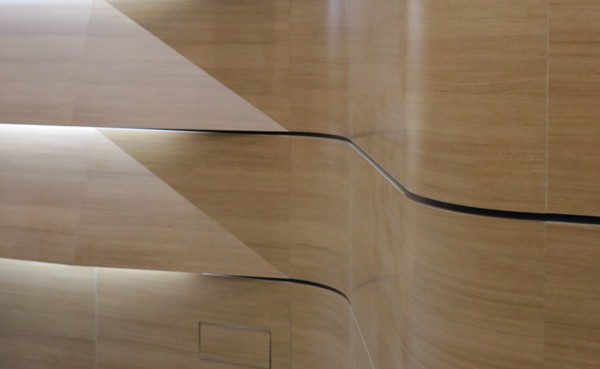 T · THEATRE
T · THEATRE is equipped with advanced audio, visual and lighting systems. It runs an introductory video of T · PARK continuously which gives visitors an overview of the facility.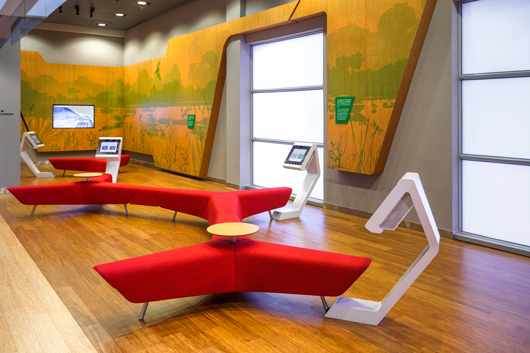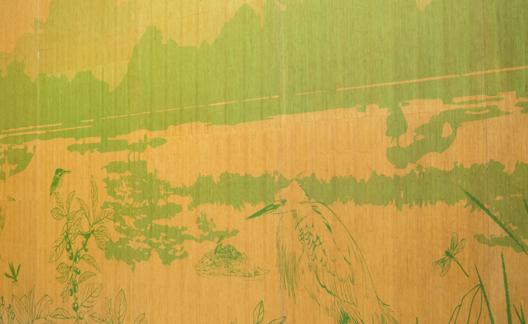 T · CORNER
A comfortable waiting and resting area for visitors, it features interactive devices to showcase various environmental topics as well as videos on nature and wildlife.