UPCYCLING LAND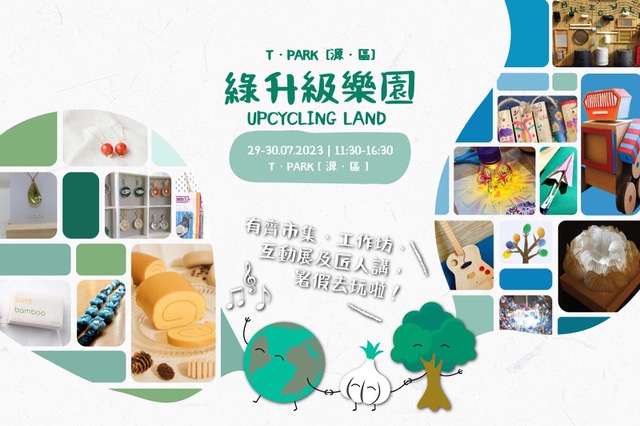 This summer, T · PARK will transform into "UPCYCLING LAND" with a variety of free activities! Come and join us at T · PARK on 29 and 30 July 2023! Please click here to register for free shuttle bus service.
Upcycling Marketplace
This marketplace features upcycling stores with exquisite handmade goodies and different green products supporting sustainable development.
Upcycling Exhibition
The immersive gaming exhibition showcases how waste can be transformed into fun musical instruments and toys! Exhibitions include:
Limited-time Bamboo Seesaw by Bamboo Generations (29-30 July 2023 only)
Fantasised Music Wall by Stem Home*
Cardboard Toy World by A New Toys*
Twinkly Light Cave by ATB AutoArt*
*Exhibition till 31 August 2023
Upcycling Artists' Talk Series
Let's dive into the artists' world and learn about their road to upcycling.
Upcycling Workshop
Don't miss out the four pop-up workshops at various spots in T · PARK, including the Bamboo Craft Workshop, DIY Airplane Launcher Workshop, Postcard Art Workshop and Diamond Lamp Workshop. These workshops are on a first-come, first-served basis. No pre-registration is required.
**It takes approximately 15-30 minutes per session.
In addition, the following two pre-registered workshops will also be held in UPCYCLING LAND. Please refer to the respective page for details.
Garlic Lamp Workshop
T · PHOTO Mobile Photography Workshop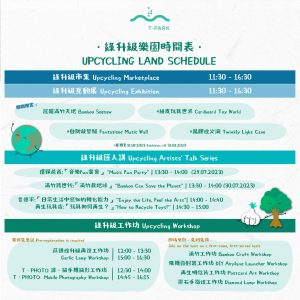 Booking closed
Date
29.07.2023 - 30.07.2023 (Sat-Sun)
Session
11:30 a.m. – 4:30 p.m.
Venue
T.PARK
Language
Cantonese
Admission
Free
Remarks
For visitors who have booked a visit to T.PARK on event day only. Free registration of shuttle bus service: https://1ticks.com/event/pLlEsQTq?lang=en
We will record video during the workshop. The footage and photos may use for environmental education and publicity of The Government of the Hong Kong Special Administrative Region, Environmental Protection Department, and T · PARK.